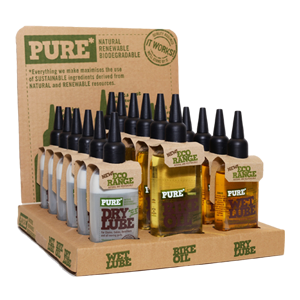 PURE Combination Lube Tray
Counter display stand which incorporates a selection of our three PURE range chain lubricants. This is supplied pre-loaded with 18 bottles of the 3 PURE lubes – wet, dry & all-purpose Bike Oil – ready to set up on the retailer's counter top or shelf.
Contents:
03407 - PURE Dry Lubricant (100ml) x 6
03406 – PURE Wet Lubricant (100ml) x 6
03405 – PURE Bike Oil (150ml) x 6
Refill packs of single product available.
Product Code: 03410