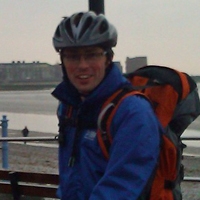 Andy Mawer
Age:
34
Location:
Bridlington, East Yorkshire
How long have you been cycling for?
Many years... About 2 years as a 'proper hobby'. Training toward a 24hr ride in May and a promise I made to myself to race Masters for at least one season before I hit the Vets.
What's your top bike maintenance tip?
Don't be lazy! Don't leave the filth on it for days. Even if you get yourself sorted first, make sure your bike gets the same treatment... It worked hard too.
What are your favourite Weldtite products?
So far, I've only used patches.
Where are your favourite locations to ride?
Around Bridlington and the Wolds. Secret gem!
What bike do you ride at the moment?
A 2011 Cube Attention (until the better half lets me get the Canyon Grand Canyon cf slx 29).
How often do you carry out bike maintenance?
Before and after every ride.
What do you love about cycling?
Getting muddy! Beating a muddy trail and besting the slippery climb is a fantastic feeling after a week at work.
Product Reviews:
Excellent tools that have just made all those loose allen keys redundant!
Read full review →