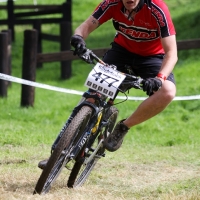 Andy Styles
Age:
36
Location:
Ludlow, Shropshire
How long have you been cycling for?
10 years.
What's your top bike maintenance tip?
If you don't have the right tool to do the job use a bit of wood and a hammer.
What are your favourite Weldtite products?
The citrus degreaser is spot on. I use that all of the time.
Where are your favourite locations to ride?
Hopton Woods, Llandegla, Sleepless In the Saddle and Mountain Mayhem, Penmachno and the Chain Reaction Marathons.
What bike do you ride at the moment?
Just got a 2013 Specialized Stumpjumper FSR 29er. Unbelieveable bike, I love it.
How often do you carry out bike maintenance?
There always seems to be a job of some sort that needs doing between my bikes and my two boys bikes as well.
What do you love about cycling?
Just getting out there with my mates and family. I love camping with a load of us at the big events like Mayhem and Sleepless. The whole team brings the families along. The kids love it. There is always somewhere new to ride and a new bit to be fitted to the bikes.
Product Reviews:
I like the way that the packaging has an industrial look to it. It makes you think of them as workshop tools rather than home tools. Everybody likes to look like a pro sometimes.
Read full review →
Does the job very easily!
Read full review →