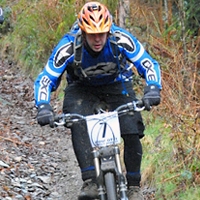 Anthony Pease
Age:
30
Location:
Llandovery , South Wales
How long have you been cycling for?
Since I was a teenager - but got back into it properly 2 years ago.
What's your top bike maintenance tip?
Silicon spray on suspension stanchions and my reverb after washing helps keep the dirt out and them running smoothly.
What are your favourite Weldtite products?
Citrus degreaser, grease gun and grease and TF2 wet lube.
Where are your favourite locations to ride?
Doethie valley and after this weekend Kirroughtree.
What bike do you ride at the moment?
Specialized Enduro FSR custom build.
How often do you carry out bike maintenance?
I clean and lube pretty much after every ride.
What do you love about cycling?
The freedom, fun, adrenaline rush, keeps me fit and most of all it clears my head of whatever stresses I have!