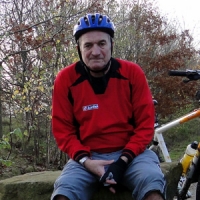 Bob Embleton
Age:
56
Location:
Barnsley, South Yorkshire
How long have you been cycling for?
25 years.
What's your top bike maintenance tip?
Clean, grease and oil regularly.
What are your favourite Weldtite products?
TF2 Spray.
Where are your favourite locations to ride?
Trans Pennine trail in Yorkshire.
What bike do you ride at the moment?
Mongoose ALX/ /Raleigh 7005.
How often do you carry out bike maintenance?
Twice a month or more in the summer.
What do you love about cycling?
Being free and going off the beaten track. I can't afford any flash bikes, so I have to make do and look after what I've got.