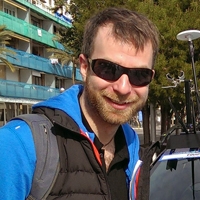 Chris Leary
Age:
29
Location:
Palma de Mallorca
How long have you been cycling for?
Since I was about 10, progressively more mountain biking in my teens and early twenties and now, in the past 2 or 3 years more road cycling.
What's your top bike maintenance tip?
Use the correct tool for the job, and just general checking and cleaning regularly to prevent bigger problems in the future.
What are your favourite Weldtite products?
I´ve not used many so I will be happy to try the selection. I have always been able to count on the Pure bike oil though, it does a great job and is also ecological which goes along side the essence of bike power.
Where are your favourite locations to ride?
When riding there are few places which are bad, that´s the joy of cycling right? My favourites (yes plural) would be Whistler, Scotland and the Peak district for mountain biking and Mallorca for Road.
What bike do you ride at the moment?
I have four bikes at the minute with my mountain bikes being used less and less these days, one day I´ll be back out on them. Cove G-spot Ragley Blue pig Cotic Roadrat singlespeed B´twin Triban.
How often do you carry out bike maintenance?
It depends on the ride I´ve done, generally mountain biking in the UK requires more maintenance with a clean and lube pretty much after every ride, deeper clean once a month with general check of all areas. My road bike gets less attention as long as during the ride all gearing has been running smoothly with quick brake and bolt check every other ride or so. My singlespeed was my workhorse and yet needs the least attention, I was running long life disc brakes and a good quality chain, a little lube now and then and air in the tyres was all that was needed.
What do you love about cycling?
What is not to love about cycling? Whether you are out on a leisure ride at the sea front, commuting, out on the mountains getting muddy, reaching the summit knowing the thrill of riding down the other side and the achievement you´ve just done, whether out with a group or riding solo, all of these offer different and exciting pleasures. Knowing you have achieved this using your own power at your own pace on the two wheels beneath (most of the time) you. It´s a sport everyone can enjoy at their own level, I´m always happy to see someone else out on a bike, most the time it makes me jealous too if I´m not on mine at that time.
Product Reviews:
Overall this product deserves a 10/10 and is something all cyclists should have in their toolbox.
Read full review →