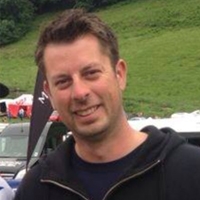 Christian Lewis
Age:
36
Location:
Padiham, Lancashire
How long have you been cycling for?
15 Years.
What's your top bike maintenance tip?
TLC, clean and check the bike and componats after every ride.
What are your favourite Weldtite products?
TFT wet lube, dry wax lube, 7.5wt suspension fork oil.
Where are your favourite locations to ride?
Whinlatter forest, Llandegla, Antur Stiniog, Gisburn forest, a lot of natural trails in the Peak District.
What bike do you ride at the moment?
2007 Whyte46, 2011 Devinci Wilson DH bike.
How often do you carry out bike maintenance?
After every ride.
What do you love about cycling?
The adrenalin rush you get from the speed, the feeling of pushing myself every time i ride and a good laugh with all my friends.
Product Reviews:
I'd recommend everyone to have one of these in their tool box! 10/10


Read full review →