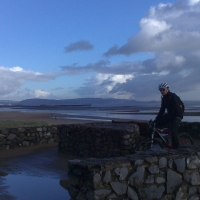 David Hart
Age:
45
Location:
Cardiff
How long have you been cycling for?
20 years.
What's your top bike maintenance tip?
Always look after your chain. Clean regularly and use a chain checker.
What are your favourite Weldtite products?
Tried the G string and Bike polish. Untill this year was Team Mechanic for Team UK Youth so I didn't have a license to use non sponsor products. This year I'm freelance so can use what I like and have heard good things about Weldtite products. Got my eye on tools too!!!
Where are your favourite locations to ride?
Hills around South Wales on the road and the natural trails on the MTB.
What bike do you ride at the moment?
Nishiki Team Carbon Road Bike (summer), Boardman Team Comp (Winter), Trek 8900 MTB.
How often do you carry out bike maintenance?
After every ride.
What do you love about cycling?
The freedom to ride almost where you like when you like.