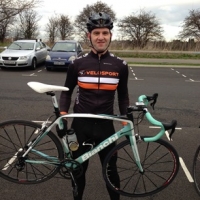 David Ladkin
Age:
37
Location:
Kingston upon Thames
How long have you been cycling for?
Over 30 years!
What's your top bike maintenance tip?
Keeping your bike (fairly) clean helps spot problems and keeps it running better and lasts longer.
What are your favourite Weldtite products?
Citrus Degreaser, Lithium Grease, TF2 Extreme Wet Lube.
Where are your favourite locations to ride?
Surrey Hills (off road). Anywhere flat and sunny on road!
What bike do you ride at the moment?
Bianchi Infinito, Scott Spark, Raleigh Dyna-tech Titanium, Brian Rourke TT bike.
How often do you carry out bike maintenance?
Nearly every week.
What do you love about cycling?
Freedom, Scenery, Speed!
Product Reviews:
A great way to save expensive wear and tear!
Read full review →
My favorite would be the TF2 Dry Lube, it lasts as long as you'd want it too, it's easy to apply and makes shifting a lot better! What more could you want!
Read full review →
All the handy allen key sizes together in one tool
Read full review →