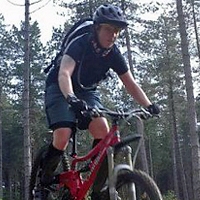 Dee Fry
Age:
32
Location:
Clipstone, Nottinghamshire
How long have you been cycling for?
20 years - with an idea what I was doing!
What's your top bike maintenance tip?
Always clean your bike after your ride, and then you're good to go on a well maintained machine when you next ride!
What are your favourite Weldtite products?
TF2 Spray and Dirt Wash.
Where are your favourite locations to ride?
Sherwood Pines, Dalby forest and the Peak District.
What bike do you ride at the moment?
Cube Reaction GTC Pro.
How often do you carry out bike maintenance?
Always, you can never leave your bike uncared for!
What do you love about cycling?
Friends, freedom and fitness!