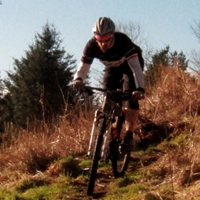 Grant Doig
Age:
41
Location:
Fife, Scotland
How long have you been cycling for?
15 years.
What's your top bike maintenance tip?
To run tyre sealant around the tyre bead and rim edge when trying to seat a tubeless tyre.
What are your favourite Weldtite products?
Cyclo pedal spanner (15mm/15mm), TF2 cycle grease, Dirtwash bike cleaning brush set and degreaser.
Where are your favourite locations to ride?
Blairadam Forest, Fife. Glentress, Peebles. Kirroughtree, Dunfries and Galloway. Simonside, Northumberland. Laggan Wolftrax, Highlands.
What bike do you ride at the moment?
Santa Cruz Superlight 29, Kinesis Maxlight FF29 or On-One Scandal rigid singlespeed.
How often do you carry out bike maintenance?
Weekly.
What do you love about cycling?
The freedom to get away from the daily grind, test myself against the terrain, the elements, my friends. To push myself to my limits, be it on an epic ride, an endurance race or even a short hammer from my doorstep – my blood pumping, lungs screaming but smiling all the time. The technology, or sometimes the lack of it. The constant development in the sport, be it in the bikes themselves in such things as dropper posts, tubeless tyres and so on but also the fun in the simplicity of just hitting the trails on something without all the trappings of a 'modern' bike – one gear, two wheels and nothing buffering me against what is under-tyre.
Product Reviews:
All in all, it's a great tool and an essential part of anyone's toolbox.
Read full review →