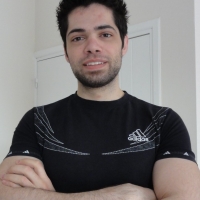 Harry Panagi
Age:
24
Location:
Limassol, Cyprus
How long have you been cycling for?
10 years but started seriously about 5 years ago.
What's your top bike maintenance tip?
After every ride, clean your bike and make sure it's maintained properly for future rides.
What are your favourite Weldtite products?
PURE. Always great to restore my bike after a tough ride.
Where are your favourite locations to ride?
I ride most of the time along the beach as I live nearby the sea but I enjoy some mountain rides too as it's a completely different environment and experience to ride there.
What bike do you ride at the moment?
Currently I own a Milan Mountain bike.
How often do you carry out bike maintenance?
I do a general maintenance once every week or every two weeks so to make sure my bike is well maintained. I clean it after every ride so that any dirt, mud, or water is removed as by neglecting such things could result into more serious problems and affect the proper performance of the bike.
What do you love about cycling?
First of all I want to mention that riding a bike is an absolute way of being friendly to the environment. I really enjoy the workout I can get through cycling as I enjoy doing intervals and push my body to exhaustion and strengthening my legs. It's a way of maintaining a healthy lifestyle and needless to mention it's a lot of fun and a way to escape from daily routine and relax.
Product Reviews:
Super easy to use! it is an excellent simple tool that I certainly would recommend to any friend if they want to keep an eye on their bike's chain and be sure that it is still good to keep it on their bike for more rides.



Read full review →
In a really hot and humid environment where I ride, I applied it 2-3 times whilst testing it and the rides were smooth and the lube did the job great! 


Read full review →
Great product and I would recommend it to a friend!
Read full review →