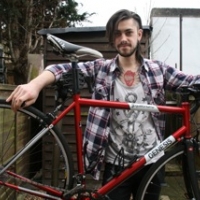 Jack Davey
Age:
23
Location:
London
How long have you been cycling for?
On and off since childhood, but I have ridden seriously and worked in the industry from 16.
What's your top bike maintenance tip?
It's a little hackneyed, but keep an eye on your tyre pressure. I see too many riders out ruining their tyres and running the risk of pinch flats. That and cleaning your braking surfaces - if you don't have a decent degreaser you can use vodka.
What are your favourite Weldtite products?
The whole pure* range has been serving me very well lately, particularly the grease which doubles surprisingly well as hand cream.
Where are your favourite locations to ride?
There are some fantastic roads around Plumpton and Glynde in East Sussex that I like to visit when I can.
What bike do you ride at the moment?
A Genesis Equilibrium/Sram/USE build for the longer haul, and a fixed beater for the daily grind.
How often do you carry out bike maintenance?
As a (recently) ex cycle mechanic I am quite pedantic about maintaining my ride. Each bike will get a good going over in the stand at least once every two weeks, and cleaning weekly. Spot checks are part of my leaving-the-house routine.
What do you love about cycling?
The freedom and flexibility. I'm a bit of a control freak and I can't abide my journey time being dictated by someone else, particularly when they can't stick to the timetable. As such public transport doesn't do so much for me. My bike leaves when I get in the saddle, and gets me there as fast as I make it.
Product Reviews:
I must say, I was pleased to see that you have opted for the curved claw type design!
Read full review →
Both lubes resulted in beautifully smooth and silent running!
Read full review →
Lasted months of home mechanicing, not to mention four 
days of Doctor Bike sessions encompassing more than 250 bikes worth 
of work!
Read full review →