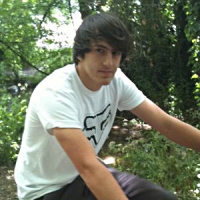 James Burrows
Age:
19
Location:
Southampton
How long have you been cycling for?
1 year.
What's your top bike maintenance tip?
When you're not sure or don't know, don't just "give it a go" you will break it! Stop there and Google it!
What are your favourite Weldtite products?
Weldtite chain and sprocket brush.
Where are your favourite locations to ride?
Lordswood, Queen Elizabeth Country Park, New Forrest.
What bike do you ride at the moment?
Specialized Hardrock disk sport.
How often do you carry out bike maintenance?
It feels like all the time. I am constantly cleaning and adding new parts to my bike to try and make it better and as I'm still getting into mountain biking I always take longer than needed because I'm inexperienced. That's why I enjoy having easy to use tools and the correct equipment so I can learn the best way to sort my bike out.
What do you love about cycling?
It always seems like an adventure, whether I'm just riding the local downhill or getting lost in the woods. I'm constantly improving my skills every day and sometimes I do overestimate them, which can end in a crash or two but nothing that can't be fixed with a bit of morphine and physiotherapy. I know that mountain biking is going to be part of me for the rest of my life and when I can actually afford the bikes I want, and ride the places I dream off, I know that nothing will be able to wipe the smile of my face.