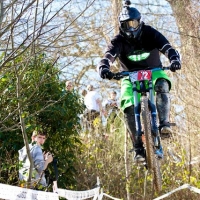 Jamie Robinson
Age:
26
Location:
Basildon, Essex
How long have you been cycling for?
On and off for 10 years but for the last 5 years consistently.
What's your top bike maintenance tip?
Bike oil is a nightmare to get off your hands and remove from under your nails. Use washing up liquid and sugar to scrub your hands only using water to rinse off at the end.
What are your favourite Weldtite products?
Hand Cleaner Beaded Gel (found after being told the above tip)
Where are your favourite locations to ride?
Wales, Coed y Brenin, local trails in and around Essex, PORC and Bedgebury Forest.
What bike do you ride at the moment?
Cove G-Spot
How often do you carry out bike maintenance?
I give the bike a look over at least once a week (maybe a little less if I haven't been out).
What do you love about cycling?
It is hard to explain what I love about cycling. It is just the feeling when you dial something you have been trying for ages or the feeling when you're shooting down that hill a little quicker then maybe you should be.