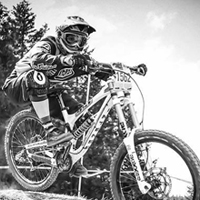 Janine Wolstenholme
Age:
41
Location:
Sheffield
How long have you been cycling for?
I have been riding a mixture of cross country and downhill for about 10 years. I have been racing downhill for the last three years.
What's your top bike maintenance tip?
Don't be tempted to put your beloved bike away dirty. Take those extra few minutes to wash and lube, take care of your bike at it will look after you out on the trail. The lack of maintenance will spoil the ride you've been looking forward to all week and it's a long walk home.
What are your favourite Weldtite products?
TF2 Teflon spray, TF2 Dry Lube.
Where are your favourite locations to ride?
Downhill - Hamsterley Forest. Wharncliffe Woods. Innerleithen. LLangollen. Cwmcarn. XC – Kirroughtree. Glentress. Peak District. Llandegla.
What bike do you ride at the moment?
Downhill - Santa Cruz Carbon V10 Cross country - Specialized stumpjumper Moto Enduro - KTM 250 EXCF.
How often do you carry out bike maintenance?
Maintenance after each bike ride checking that components are in good working order such as rear mech, shifters, brakes, brakes pads, wheel bearings, spokes tensions, tyre pressures and a general bolt check. After each wash I use a dry or wet chain lube on the chain, TF2 spray on rear mech, spd pedals and complete the bike check above. Due to racing or riding every weekend my forks need to be serviced frequently. I will undertake this myself by stripping the forks down, removing and greasing the springs, replacing seals when necessary and changing the oil.
What do you love about cycling?
I enjoy the freedom of being outdoors and I love taking in the breathtaking views that you come across in some of the best mountain bike locations in the UK. Cycling is such a social event for me, meeting like minded people who enjoy being outdoors and having fun.
Product Reviews:
This product is lightweight and strong, it's a nice size and an attractive product at a great price!
Read full review →