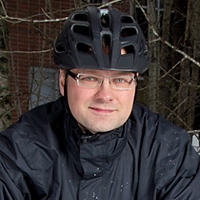 Jari-Matti Auttila
Age:
38
Location:
Kangasala, Finland
How long have you been cycling for?
For ages. Actively MTB'ing and commuting daily throughout the year for five years - totalling about 6000 km/year. Out of which about half is commuting and half XC/Enduro.
What's your top bike maintenance tip?
This is easy - being a winter biking enthusiast I have developed a lot of tricks related to cold conditions. Biking in minus 30 Celsius tends to jam transmission, because snow gets into the derailleurs and cranks and finally freezes into one big chunk. When the bike is clean and warm, a thorough cleaning with TF2 to the derailleurs and lower parts of the frame (around bottom bracket) and the problem is solved. If cables tend to freeze, moisten a thick wool yarn with TF2+ Dry lube and pull it through the cable housing. The best working lubricant in low temperatures!
What are your favourite Weldtite products?
TF2, TF2 Wet lube, TF2+ Dry lube, TF2 Teflon Grease. Also, I never leave home without a Weldtite Glueless Patch Kit in my pocket.
Where are your favourite locations to ride?
A trail from our back yard in Kangasala goes to a nearby ridge with all the trails you can imagine, enough downhill's to test the characteristics of a bike and plenty of technical sections to test the characteristics of a rider.
What bike do you ride at the moment?
I currently ride a Haibike Heet RC and
 a Sandman Gobi fatbike.
How often do you carry out bike maintenance?
My own bikes weekly. I also collect money for local school by maintaining bikes, which means about 2-5 maintenances per week during spring and autumn.
What do you love about cycling?
Great way to keep fit without wasting a lot of time. I don't have to go to the gym after work, so a lot of time is saved - time I can spend with my family (or fixing someone's bike...)