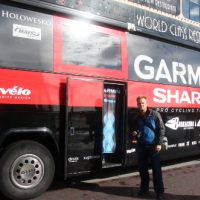 John Taylor
Age:
27
Location:
Leeds, West Yorkshire
How long have you been cycling for?
Many years on the MTB, only since April 2012 on the Road!
What's your top bike maintenance tip?
Don't maintain your bike in the house if you have cream carpets.
What are your favourite Weldtite products?
TF2 by far, never without it.
Where are your favourite locations to ride?
Yorkshire Dales and the Peak District.
What bike do you ride at the moment?
Road bike is a Giant Defy… MTB is a GT… I also have a Raleigh Burner BMX but it's a bit small now…
How often do you carry out bike maintenance?
After every ride!
What do you love about cycling?
Riding solo in the rain to the pain cave and the banter of the bunch in the Dales.
Product Reviews:
Well built as are all Weldtite / Cyclo products, feels solid as a rock, easy to use!
Read full review →
If I had to choose one or the other I think the wax may take it but it's a close one!
Read full review →
A great addition to my toolbox and I would definately recommend Cyclo tools to my mates in the future!
Read full review →