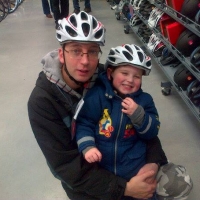 John Taylor - Cheshire
Age:
34 years young!
Location:
Runcorn, Cheshire (usually on one of my bikes though)
How long have you been cycling for?
As long as I can remember - at least 20 Years.
What's your top bike maintenance tip?
Keep your chain clean and lubed.
What are your favourite Weldtite products?
My Cyclo Pedal Spanner, My Cyclo Crank Remover, TFT Grease and Grease gun, and TFT performance Lubricant.
Where are your favourite locations to ride?
Cheshire Country Lanes. Delemere Forrest. To be honest anywhere I can!
What bike do you ride at the moment?
Kuyota Kharma 2011 GT Avalanche 3.00 KTM Ultra 1964.
How often do you carry out bike maintenance?
On my own weekly, I work in a bike shop as a mechanic so I perform services and repairs on a daily basis.
What do you love about cycling?
The freedom and how inclusive it can be, I am a British cycling ride leader and this helps me get other people into cycling. As a mechanic I am also very proactive in helping people maintain their bikes so they can ride more.
Product Reviews:
I've used two or three different chain wear indicators in the past and this is far the easiest.
Read full review →