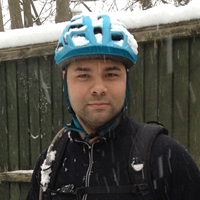 Jon Woods
Age:
35
Location:
Loughton, Essex
How long have you been cycling for?
15 Years.
What's your top bike maintenance tip?
Use Anti Seize Copper grease on any metal to metal areas like axles and crank spindles to make bike disassembly easier.
What are your favourite Weldtite products?
I ran the TF2 7.5wt suspension oil in my modified Rockshox totems for a season in the Alps and it performed flawlessly. The Dirtwash citrus degreaser has been in my workshop for years now and a 1ltr tub lasts ages. I'm building out a new workshop so have looked into the Mobile Bicycle Stand but have yet to try one out.
Where are your favourite locations to ride?
There are so many! Pila in the Alps. It has one of the best trails I've ever ridden. So much different terrain in one ribbon of singletrack. Triscombe in the UK' as the pine needles mix with the loam to create a crunchy magic carpet you can float through, but still get endless grip in the corners. The uplift driver also makes you tea and cakes once your done
But I have to say my favorite location is my local trails in Epping Forest, as that's where I can get a quick one hour fix after work and blow away the days worries... and there is no better feeling than that.
What bike do you ride at the moment?
At least twice a week. Summer time it goes up to 4-5 times.
How often do you carry out bike maintenance?
I have five bikes and we often have at least one bike on review on our site www.essexhertsmtb.co.uk so at least twice a week. I've got to bleed some Saint 820's tomorrow. Getting the lever throw right on those is a dark art! Wish me luck.
What do you love about cycling?
The visceral feeling to riding tough technical terrain is something that is second to none. The camaraderie you get from taking on that type of challenge with your friends just amplifies the buzz.