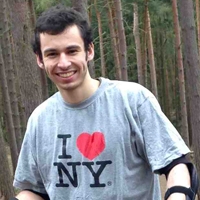 Joseph Schenk
Age:
20
Location:
Loxwood, West Sussex
How long have you been cycling for?
14 years.
What's your top bike maintenance tip?
Keep the bike clean and oiled and fewer parts break!
What are your favourite Weldtite products?
The TF2 range of products and Cyclo tools.
Where are your favourite locations to ride?
The Surrey Hills. Forest of Dean and Chicksands.
What bike do you ride at the moment?
2013 Specialized Stumpjumper FSR comp.
How often do you carry out bike maintenance?
Before and after every ride, and before putting the bike away for any length of time.
What do you love about cycling?
The Freedom to go anywhere, be with friends and push myself and my bike to the limit whilst getting fit and having fun. From downhill to cross country every aspect of cycling keeps me fit, outdoors and ultimately, happy.
Product Reviews:
I would definitely rate this product as 10/10. It is simple, good value for money and robust - giving you exactly what it says on the tin.
Read full review →