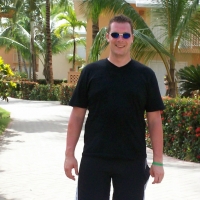 Kenny Davidson
Age:
37.....nearly 38 :(
Location:
Kinghorn, Fife
How long have you been cycling for?
Since the age of 13 or 14 so that makes it nearly 25 years, wow time flies when you are having fun.
What's your top bike maintenance tip?
No specific tip but you must look after your bike so that it is capable of looking after you the next time you decide to leap off something and end up either hurt due to failure or with a long long walk home or back to the car.
What are your favourite Weldtite products?
TF2 cycle oil, Dirt Wash citrus degreaser and ball ended allen key Y wrench, 4,5,+6mm.
Where are your favourite locations to ride?
I can be spotted on the Fife coastal path, usually somewhere between Inverkeithing and Buckhaven if I am just looking for a quick local blast, no stranger to Glentress, A E Forrest and Blairadam Forrest but i do prefer to ride natural trails so I take every chance I can get to simply pick somewhere I have not been and go explore. Sometimes it's amazing sometimes it's a disaster.
What bike do you ride at the moment?
2012 Cube Acid, not the 29r still to be converted. Prefer my hardtails, I guess because when I got into mountain biking it was steel frames and rigid forks so just having front suspension for me is more than enough and I just prefer the feel of a hardtail.
How often do you carry out bike maintenance?
After ever ride I clean, lubricate, adjust anything that may needing adjusting. I don't replace parts just for the sake of it, I only replace if worn out or broken. I will strip down to clean and re-grease etc though if I feel it is needed.
What do you love about cycling?
The freedom and the ability to get out and explore while seeing views and countryside that would simply not be possible to see from a car, bus or train.
Product Reviews:
The best designs are simple but functional and this chain wear indicator certainly ticks all those boxes!
Read full review →
This Lube amazed me, it really had no right to perform so well in the wet muddy conditions that it did!
Read full review →
One of my most used tools and a workshop must have.
Read full review →