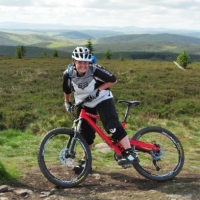 Marie Brown
Age:
33
Location:
Darlington, County Durham
How long have you been cycling for?
Since I was 11!!! Oh God, 22 years! I raced XC, a bit of downhill and 4x and I commute daily!
What's your top bike maintenance tip?
Every night, rinse your bike off after getting home, get the salt off to stop it building up and destroying everything. At the weekend, give it a proper wash and lube, checking brake blocks/pads for wear while you are there.
What are your favourite Weldtite products?
TF2 Extreme Wet Lube - kept me going all through this crappy weather!
What are your favourite locations to ride?
Yorkshire Dales! Road AND MTB! AND it's down the road, 7 Stanes or the French Alps.
What bike do you ride at the moment?
A Merida Speeder for commuting, a Commencal Meta for MTB, a Commencal Absolut for 4x and a Felt BMX.
How often do you carry out bike maintenance?
In this weather, every other day! Normally on a Friday night with a glass of wine in the garage and some funky tunes!
What do you love about cycling?
It takes me places cars don't and takes too long to walk. It's a great way to start and end the working day with a good old pedal and it's great to ride and have some good banter with my mates. You can't beat a group of 26 hammering each other through the trails, and finishing with a cheeky beer or two!!! Then having a garage full of bikes and tools and everyone messing about in there fixing and fiddling after a ride... big sense of belonging, ha!