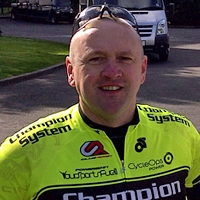 Martin Pounder
Age:
48
Location:
Wiltshire
How long have you been cycling for?
Since the age of 11.
What's your top bike maintenance tip?
A good hose and a great brush.
What are your favourite Weldtite products?
TF2 and Dirt Wash.
Where are your favourite locations to ride?.
UK in general, Cwmn Carn is only 35 minutes away.
What bike do you ride at the moment?
Ridley custom built, and team issue Cube.
How often do you carry out bike maintenance?
Daily.
What do you love about cycling?
What is there not to love!