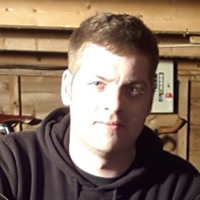 Pete Haddock
Age:
27
Location:
Barton-on-Humber
How long have you been cycling for?
I started to consider cycling as a hobby about 12 years ago.
What's your top bike maintenance tip?
It's better to spend a few hours at home getting your bike running spot-on, than end up stranded by the side of the trail with a break down.
What are your favourite Weldtite products?
Definitely TF2 lithium grease, I get through loads of it. Also your pure dry lube seems better than other dry lubes I've used in the past. I try and use Weldtite products where I can as I like to support local businesses.
Where are your favourite locations to ride?
Anywhere new that I've never ridden before but day to day I love riding down the Humber bank towards Ferriby and around the nature reserves. Myself and a group of friends make trips to ride places like Sherwood Pines and Dalby Forest etc. I also like playing on dirt jumps and downhill tracks such as Willingham Woods. I wouldn't consider road riding enjoyable but I use my commute as a good excuse to get some training in so I put in a fair few road miles a year as well.
What bike do you ride at the moment?
2007 Giant Trance all purpose mountain bike 2008 Mongoose EC-D downhill bike 2013 Dartmoor 24Player dirt jump bike 2013 Scott speedster 60 road bike 1977 Elswick Hopper safeway fixed wheel conversion.
How often do you carry out bike maintenance?
With so many bikes in regular use, there is always something needing looking at. My girlfriend works two or three evenings a week and I don't really watch T.V so once the kids are in bed I will go outside and spend a few hours tinkering. I pride myself on my bikes running perfect and try and do as much of my own maintenance as I can. I recently taught myself to do basic suspension servicing and aim to learn wheel building next.
What do you love about cycling?
Cycling to me is a family tradition, my great Grandfather was a cycling champion travelling around the county competing in grass track events. My Grandfather was a frame builder for Elswick Hopper who travelled miles with my Grandmother on their tandem. My father is a keen club cyclist for Barton Wheelers so I was always destined to be interested in cycling. I love the way cycling (in my case mountain biking) can be so many different things from a peaceful ride enjoying the wildlife and scenery to an adrenalin fuelled blast down a downhill course. I enjoy both the solitude of a long solo ride and the camaraderie of a group ride round a challenging trail center route.
Product Reviews:
It's got to be a 10 out of 10 as the tool is priced well, easy to use and should last a lifetime.
Read full review →