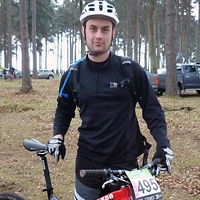 Richard Behague
Age:
22
Location:
Aldridge, West Midlands
How long have you been cycling for?
5 years.
What's your top bike maintenance tip?
After a winter ride, never let the mud dry on the bike - nightmare to clean later on.
What are your favourite Weldtite products?
Cyclo tools - cassette lockring tool, TF2 spray (much better than GT85) and Dirt Wash.
Where are your favourite locations to ride?
Regular ride is Cannock Chase, marked trails and off piste, Forest of Dean is great, hopefully Wales will be good too.
What bike do you ride at the moment?
KHS XCT-556 full suspension.
How often do you carry out bike maintenance?
Drivetrain and fork/shock cleaned straight after every ride, rest of bike at least once a week.
What do you love about cycling?
The sense of separation from the rest of the world rushing by. The feeling of speed on a fast, technical descent. The joy of reaching the top of that difficult climb knowing you will be rewarded with gravity pulling you back down the hill!