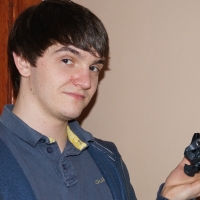 Ross Kane
Age:
21
Location:
Glasgow, Scotland
How long have you been cycling for?
1.5 years.
What's your top bike maintenance tip?
Fix something before it becomes a problem! Check your bike regularly to make sure its in full working condition, keep moving parts well lubricated and clean!
What are your favourite Weldtite products?
Favourites are Dirt Wash bike cleaner and the G-string. Previously only used muck-off for after ride cleaning which takes off surface dirt, whereas the dirtwash bike cleaner cleans deeper without needing to scrub the bike! The G-string is a great idea, great name for advertising and sales purposes but it works brilliantly too! Cleans deep into my cassette.
Where are your favourite locations to ride?
My local park- pollok, it's where I learned to ride with my far more experienced friends and still offers challenges. Mugdock country park is good for longer XC rides with some really rocky and rooty sections. I have many plans for this summer to visit Fort William, Cambusbarron and Glentress.
What bike do you ride at the moment?
Recently purchased a Giant Reign 1 from a friend of a friend, my first full suspension bike that will really benefit my riding style.
How often do you carry out bike maintenance?
I always have something I want to tweak or modify on my bike. But I tend to spend a few hours every week or so plus time spent cleaning and relubricating the bike after muddy rides.
What do you love about cycling?
I like the adventure, getting out the city environment. Finding different ways of pushing myself whether its physically or mentally challenging. I love the feeling of accomplishment of clearing a jump or knowing my riding is getting smoother after doing sections again and again.
Product Reviews:
At £5.99 it is good value for money: a one time investment.
Read full review →
Once dry it acts as a wax coating on the chain which repels water and dirt even in harsher weather!
Read full review →