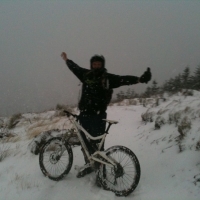 Ryan Dobson
Age:
27
Location:
Cumbria
How long have you been cycling for?
Socially 24 years, Mountain Biking for 7 years, Working within the industry for 4 years.
What's your top bike maintenance tip?
Learn to never need tyre levers and save your expensive rims!
What are your favourite Weldtite products?
Weldtite TF2 spray on chain oil saves me countless hours at work as I look after 30 + hire bikes.
Where are your favourite locations to ride?
Anywhere in the Lakes. I'm in my element on a cold miserable day with only a compass and an OS map.
What bike do you ride at the moment?
Santa Cruz, Butcher.
How often do you carry out bike maintenance?
On my own bike I do a quick clean and service after every ride (once a week). On my work hire fleet I have little maintenance jobs to do every day. (My work fleet consists of all manner of bikes, we specialise in disabled and disadvantaged riders so have many adapted cycles - www.watchtreewheelers.co.uk).
What do you love about cycling?
The freedom, the thrill and the removal of pies from my waistline.
Product Reviews:
This is a great no nonsense tool which gives a clear result every time. You can't get a lot for £6 nowadays so yes! It's a small price to pay for avoiding a snapped chain and a long walk home.
Read full review →
A great home mechanic tool for someone who does a reasonable amount tinkering on their own bikes!
Read full review →