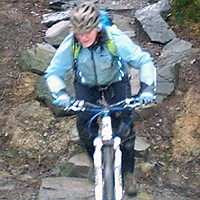 Sandra Green
Age:
43
Location:
Wigan, Greater Manchester
How long have you been cycling for?
I have been cycling on and off for about 10 years but dedicated cycling over the last 3 years.
What's your top bike maintenance tip?
My top tip is cleaning your bike after use, especially in winter followed by water displacement aerosol and chain lube prolongs the life of your drive train and helps the bike run smooth even in the gloopiest of conditions.
What are your favourite Weldtite products?
My favourite products are the TF2 aerosol spray and the chain lube.
Where are your favourite locations to ride?
My favourite place to ride is Whinlatter in Keswick and Dalby. My local ride is Rivington near Bolton and trail is Gisburn.
What bike do you ride at the moment?
I am currently riding an Orange 5 Diva.
How often do you carry out bike maintenance?
Basic clean and lube after every ride and try to regrease moving parts at least once a month (headset, bearings etc.).
What do you love about cycling?
I love the single-track and the ability to fly down the hills with speed now I have improved my skills. I am also a British Cycling Breeze Ride Leader so I am keen to get women into cycling and enjoy all aspects of keeping fit and having fun.