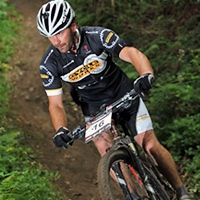 Scott Swalling
Age:
39
Location:
Guildford, Surrey
How long have you been cycling for?
Since I was about 10, I started BMX racing then and have always had a bike in a spare room or garage. When I got into mountain biking years ago, it became a passion/obsession. I now have a small fleet, from a 29er to a CX bike, and considering the roots of where it all started again, a BMX.
What's your top bike maintenance tip?
Keep those drive trains clean and lubed people. Even on my singles, I find it just simply improves life of the drive train.
What are your favourite Weldtite products?
Teflon grease and TF2 Dry lube. Also interested in your Pure range of products, but have yet to try any.
Where are your favourite locations to ride?
Not a location as such, but more the terrain. Flowing and technical single track with painful climbs thrown in. Although The Surrey Hills fits this bill quite well.
What bike do you ride at the moment?
SIR9 Niner, a Kinesis FiveT and KR810 and a Voodoo Wanga.
How often do you carry out bike maintenance?
Several times a week as bike usage and weather dictates.
What do you love about cycling?
The freedom and peace of mind I get from cycling and the people I have met along the trail.