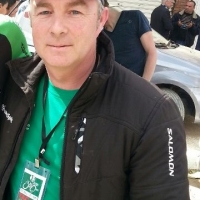 Sean McNicholl
Age:
44
Location:
Bellaghy, Northern Ireland
How long have you been cycling for?
20 years.
What's your top bike maintenance tip?
Always store your bike in the small rings front and rear. No tension on cables and springs prolonging the life of components.
What are your favourite Weldtite products?
TF2.
Where are your favourite locations to ride?
Locally with my newly formed club, and also Co.Donegal.
What bike do you ride at the moment?
Giant TCR.
How often do you carry out bike maintenance?
Every day.I work full time as a local and team bike mechanic.
What do you love about cycling?
The group spirit and freedom to explore with new friends... and the coffee afterwards.
Product Reviews:
I work at races all over Europe with different teams so the first thing I do when I meet them is check the bikes over starting with the chain. This tool makes life so much easier for me and for that reason my rating would have to be 10/10.
Read full review →
The Lubes are great. I used them both at the Tour of Gevaudan in Southern France. No grinding of chains the entire week!!!
Read full review →
I have to say they really are a great product!
Read full review →