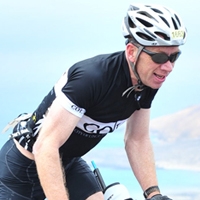 Simon Devereux
Age:
50
Location:
Morecambe, Lancashire
How long have you been cycling for?
35 years.
What's your top bike maintenance tip?
I suppose this is a bit obvious and not very technical. Keep your bike clean and that will prevent expensive repairs later on. There's nothing like muck in and around the drive train to grind and wear components out quickly. Prevention is better than cure!!
What are your favourite Weldtite products?
I really like your Dirtwash, citrus degreaser, which I have used a lot of. Even if a customers bike has just come in for a minor repair, I am trying to give a good service and create a good impression, so I will give the bike a quick once over to clean it. I have found that dirtwash products do an excellent job shifting grime on components and leaving the drive train clean. I also like the Cyclo threading tool, which I don't own but used quite a lot on my city and guilds course. It made cleaning those threads in the bottom bracket and easy job and refitting of the bottom bracket a cinch. It's on my list of things I need!
Where are your favourite locations to ride?
The Ribble Valley, Trough of Bowland, North Lancashire, South Lake District, Yorkshire Dales are all on my door step so we're spoilt for choice really. One of my favourite rides has to be one we refer to as "The Slaidburn Round" This is a 58 mile circular route that heads out from Lancaster over "Jubilee Towers" ( a famous climb in the area) through Dunsop Bridge (The official centre of the UK) and out over some fantastic climbs and scenery towards High Bentham in North Yorkshire. The ride finishes with a relatively relaxing few miles through the Lune Valley. It's superb!
What bike do you ride at the moment?
A Planet X Carbon with Shimano 105 groupset and Mavic cxp 33 rims (winter bike). And a Cervelo r3, Ultegra Di2, Mavic Cosmic Carbone SLR wheels (summer and races) I also have an old GT Pantera Mountain bike which has a road wheel on the back and is currently on a turbo trainer. Oh, and a 1970ish Fausto Coppi frame that I used to use on my turbo. I cleaned up the frame and built a back wheel with a 'flip flop" hub on it so you can change it between a fixie and a single speed freewheel. Only thing is I miscalculated slightly and the gear ratio the bike now has would be to say the least challenging on anything but flat terrain. (For the purposes of velominati's rules, I don't really count the bottom two, by the way!)
How often do you carry out bike maintenance?
On a daily basis. In October 2013 I completed my City and Guilds and Certificate of Attainment, at "The Bike Inn" Lincolnshire with Alf and Theresa Webb. Since then I have been starting to get my own mobile bike maintenance business going. I still have a full time job so its quite difficult, but in 5 weeks I go part time which will help me really get things moving. I already have lots of people wanting jobs doing, including my local triathlon club City of Lancaster Triathlon (COLT), who want me to service the club bikes. Weldtite were one of the companies recommended on the course and I have used lots of your products.
What do you love about cycling?
This will sound a bit of a cliché, but the freedom riding a bike offers is second to none, There is no better way of exploring the local countryside and seeing things you wouldn't see in a car than being out on your bike. I also like the challenge it presents, it's a great way of getting/keeping fit, testing yourself against the terrain, elements and your own ability. No two days out on the bike are the same. Oh, and being honest, I love bikes as well and probably fall into the below category "While the minimum number of bikes one should own is three, the correct number is n+1, where n is the number of bikes currently owned. This equation may also be re-written as s-1, where s is the number of bikes owned that would result in separation from your partner" Velominati's Rules.
Product Reviews:
I have used this product before on numerous occasions, as it happens it was one of the first things I bought after completing my City and Guilds in bike maintenance.
Read full review →