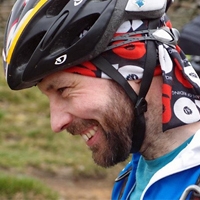 Steve Air
Age:
43 years young
Location:
Long Eaton Nott's
How long have you been cycling for?
Since a nipper, mountain bikes since 2000.
What's your top bike maintenance tip?
Pray lube sprayed on frame etc. before a filthy ride to aid the cleaning when finished.
What are your favourite Weldtite products?
I will be brutally honest; I don't have a brand I use exclusively. I tend to use generic products so I'm ripe for impressing and converting to a structured Weldtite regime.
Where are your favourite locations to ride?
Would love to go back to Fruita, Utah, Colorado, French Alps Morzine xc Porte de S, Isle of Sky, Scotland in general (7 Stanes) Ride more regularly in Peaks, Sherwood pines (cycle club member,) Dartmoor, Wales. Neglected the Lakes.
What bike do you ride at the moment?
Scott Spark 10, Voodoo steel Wanga, Spesh Allez.
How often do you carry out bike maintenance?
Not enough cleaning! Fixing often :( I would love the discipline of a test review!
What do you love about cycling?
Everything! Except maybe the death battle that is my commute! I'm also one of four in your Weldtite Warriors Mountain Mayhem team this year, oh yes.