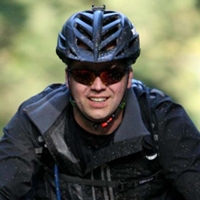 Tim Burt
Age:
40
Location:
Dorset, UK
How long have you been cycling for?
Off-and-on since I was about six! My first "big" bike was a 15-speed racer. I rode for miles on it when I was a teenager and loved the independence. I moved on to mountain bikes in later life, but got lazy in my 30s and didn't ride much. Now, I'm back on a mountain bike and riding more than ever.
What's your top bike maintenance tip?
A clean bike is a happy bike. Clean it when you put it away!
What are your favourite Weldtite products?
So far, Pure chain lubes, particularly the dry lube.
Where are your favourite locations to ride?
Around my local hills, there's no place like home. The 7 stanes in Scotland for great trails in amazing scenery. Any new places. I love to explore.
What bike do you ride at the moment?
Marin Mount Vision. Custom built by my own grease-covered hands
How often do you carry out bike maintenance?
Pretty much every time I ride the bike. I can usually spot something to clean or adjust. Little and often means that my bike doesn't let me down.
What do you love about cycling?
I love so many things about cycling. The =tness bene=ts are obvious; I sit in front of a computer most of the day, so getting outside and getting active always makes me feel good. Being out on my bike alone can be very cathartic. Sometimes I can ponder a problem that's been bugging me all day, other times I just forget the rest of the world. I never come back from a ride feeling worse than when I left. Being out on my bike with friends is a great way to spend time. I can't imagine wanting to go and sit in a pub all afternoon when I could be out on a trail somewhere. My bike lets me push myself. If I want to challenge myself to ride quicker, smoother or further than before, then I can. It's led me to enter the Mountain Mayhem and Bontrager TwentyFour12 where, despite being very much in the 'amateur' classes, I enjoyed some of the best riding of my life. Cycling is universal. It seems that no matter where I go, if I have my mountain bike with me I end up chatting to a complete stranger about places to ride or trips to take.
Product Reviews:
At under £6, it can save you a fortune by preventing drivetrain wear!
Read full review →