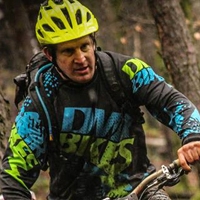 Tim Grant
Age:
41 (for now)
Location:
Minehead, Exmoor National Park
How long have you been cycling for?
Mtb 24 years - since I was five.
What's your top bike maintenance tip?
Keep it clean and less is more when it comes to lubing chains. If it's clean and you use a good polish & frame protecting and the rest should be easy to keep on top of.
What are your favourite Weldtite products?
Silicone spray. It happens to help seat stubbon tyres as well keeps muck at bay.
Where are your favourite locations to ride?
Exmoor and if the chance arises Wales. Exmoor has pretty much everything.
What bike do you ride at the moment?
A DMR Sidekick 2. It is a do it all bike and writing for a website based on hardtails - well full suss isn't an option.
How often do you carry out bike maintenance?
Basic stuff is every week but the rest depends on weather. If it's raining every month and summer when the bike feels it needs it.
What do you love about cycling?
Cycling has been part of my life for over 30 years. The simple enjoyment of shredding the local woods or riding something scary will always be part of the "Fun" for me. It's kept my Asthma in check too. Pretty much all my friends are from biking. Also writing for a website has kept the old flame going. I don't think of cycling as a past time or hobby. It's what I am. "I ride therefore I am". Yeah I'm not going big on jumps or as fast as the "kids" and sometimes I'm a bit clumsy when riding, but when you get "that " corner or "that" run just right it's the best. Living on the Edge of a wide and varied terrain and one of the UK's best National Park means that my style of riding has changed over the years. Once it was just riding over to your mates in the next town or village and then tear assing about, to Commuting to racing XC and DH and now Enduro, or just going out riding with new and old friends fast or slow. The short rides or the long ones, somewhere old or somewhere new. It's all good.
Product Reviews:
Simple to use, nice and light and not cumbersome or over overly technical.
Read full review →