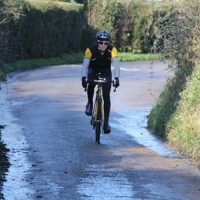 Tim Wiggins
Age:
21
Location:
Isle of Wight
How long have you been cycling for?
I have been riding and racing bikes since I was 14, and in the past 18 months has my racing has really taken off. In 2011 I focussed my attention on the International Island Games; a challenging event with teams from as far afield as Barbados and Jamaica; as the youngest rider in the Cross Country event, I took 13th out of 45 riders. Last year I signed for the Wightlink Cycle Race Team; primarily focussing my attention on road racing. I have had consistently good results, with several race wins and multiple top ten results taking me up to my 2nd Category licence. My aim for this season is to progress further into Category 1 racing.
What's your top bike maintenance tip?
Carry spare spokes inside your seat post – a broken spoke can really stop play, and can be a real problem if you are far away from home. Here's how I store mine: Tape the spokes together in a bundle. Get two bits of sponge (a kitchen sponge cut in two will do), wrap it around the spoke bundle in two places, and secure with a thin strip of tape (so that the sponge is still showing for the most part). Then stuff it up inside the seat-post - the sponge should be thick enough that it has enough friction to stop the spokes from dropping down, and even if they do, they are only going to fall down the seat-tube. It is an effective way of stopping your spokes from getting bent and damaged.
What are your favourite Weldtite products?
TF2 Lubricant or Citrus Degreaser – both my favourite on the market for these kinds of products.
Where are your favourite locations to ride?
Alps, Pyrenees or the Isle of Wight.
What bike do you ride at the moment?
All – Road bikes mostly, but also mountain bikes, touring bikes and commuters: http://timwiggins.blogspot.co.uk/p/bikes.html
How often do you carry out bike maintenance?
I clean and service my bike all my bikes regularly, and am capable of all major tasks, including a full strip-down and rebuild. I am teaching myself to wheel-build at the moment, after helping a local mechanic build my last set of race wheels: http://timwiggins.blogspot.co.uk/2012/04/custom-wheel-build-project.html
What do you love about cycling?
There is something incredibly relaxing about pushing yourself hard on a bike - concentrating just on the physical task in hand and mental determination, it provides a welcome respite when most of my other time is taken up by numbers and data from my Economics degree. I also love the scenery and places that I bike can take you.