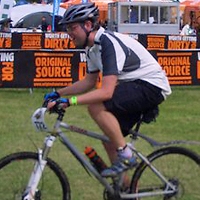 Tom Downie
Age:
27
Location:
Glasgow
How long have you been cycling for?
Seriously for the last 18 months, although I've always done some mountain biking or commuting for the last ten years.
What's your top bike maintenance tip?
Cleaning the drive chain and using good lubricant will keep the bike working better for longer. It saves money on parts too.
What are your favourite Weldtite products?
For some reason I bought a puncture repair kit from a pound shop last year and learnt the hard way that Weldtite is the way to go for repair kits. I'm very attached to my Cyclo allen key set. The ball headed allen keys make a lot of fiddly jobs easier and there is less chance of damaging bolt heads with good quality tools.
Where are your favourite locations to ride?
I really like any decent cycling I can do from my doorstep. There's something special about leaving the car behind and getting out of the city onto the trails. So at the moment that's the trails and hills just north of Glasgow.
What bike do you ride at the moment?
Genesis Altitude 20 hard tail and a Trek road bike.
How often do you carry out bike maintenance?
I'm always doing bits of tinkering to keep things running smoothly between rides and then some more major work once a month. I like to take things apart and make sure they're all greased up and working smoothly. Sometimes I'm better at taking them apart than putting them back together but I'll have a go at most maintenance jobs.
What do you love about cycling?
There are so many personal challenges. It can be trying to do something technical on a mountain bike, getting up a hill quicker on a road bike or just spending a rainy evening learning how to fix your bike.