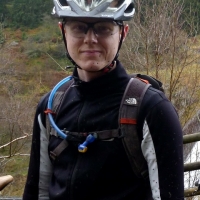 Tom Lovelock
Age:
27
Location:
Cheadle, Staffordshire
How long have you been cycling for?
About 14 years.
What's your top bike maintenance tip?
When you break your chain, leave a bit of the link pin showing. This helps hold the chain together while you drive the pin back in.
What are your favourite Weldtite products?
Your brush set, costs very little and helps get to all those hard to reach places! I also really like your disc brake cleaner, it's perfect for rejuvenating your brakes after a few muddy rides.
Where are your favourite locations to ride?
The trails around Ladybower reservoir for the views and fast technical trails. The Kentmere Valley in the Lake District is a particular favourite for fast, rocky trails.
What bike do you ride at the moment?
An Orange Blood and a Ragley Mmmbop.
How often do you carry out bike maintenance?
Cleaning and basic stuff after every ride (a couple of times a week). More serious stuff every few weeks. I've even recently entered into the murky world of suspension servicing...
What do you love about cycling?
The sense of achievement and freedom from propelling yourself somewhere remote and beautiful. The simple, child-like thrill of riding fast downhill and getting muddy!
Product Reviews:
For anyone riding regularly and doing their own bike maintenance I would say this is a very useful tool to have. You would only need to replace one chain over a whole drivetrain to justify its cost.
Read full review →
Even in the few damp rides I have been on lately it lasts well, standing up to stream crossings and puddles!
Read full review →
Pleasantly surprised at how well they work and I can only put this down to the quality of the tools.
Read full review →