Cyclo Chain Wear Indicator
The packaging is clear and easy to access the product – unlike the packaging on some small products.
From this example, not too sure where/how the instruction leaflet is going to be attached to the packaging but would presume a type of sealed plastic envelope behind the Chain Wear Indicator?
The only fly in the ointment, there is no indication on the packaging of what type of material the backing is made from and how it could be recycled… if using a plastic, it might be an idea to have some reference to what it is made of so that it can be recycled?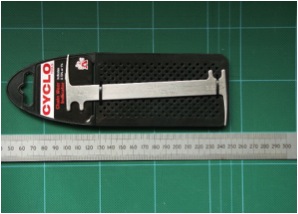 I have used similar chain wear indicators before and this example is equally easy to use and to measure the wear within the prescribed measurements.
Personally, I would know how to use such a chain wear indicator as I have previously used such chain wear indicators but not everyone may be quite as experienced at using such a tool, so either the inclusion of the instruction leaflet or a URL to the instructions online does need to be included with the product.
The instructions and associated diagrams are easy to follow and are clear and concise.
According to some manufacturers, 11 speed chains such as the SRAM PC1031 require replacing at 0.5% wear, so maybe clarification on what chains this chain wear indicator is suitable for use on may be required.
The product is easy to use and have used it to compare with my chain wear indicator (Park Tools CC-2 Chain Checker) the chains on four different bikes, with four different types of chain:
Shimano HG93 9spd chain,
SRAM PC1031 11spd chain,
Clarks CSL410 ⅛" single speed chain,
KMC Z610HX ½" x 3/32" single speed chain,
The Chain Wear Indicator worked equally and accurately on all the above chains and did correspond to my maintenance records of the chain wear using the Park Tools CC-2, I routinely use.
I would certainly recommend this Chain Wear Indicator to my friends and colleagues and would add one to my extensive toolkit to be used as a quick "GO" or "NO GO" chain wear indicator while cleaning my drive train.
I did use it on some of my own bikes to check its accuracy and ease of use compared to my own chain checker – it performed perfectly and with ease.
With an RRP of £5.99, it is priced within the budget of all cyclists from the occasional cyclist to the pro Sportif cyclist or mechanic.
After checking online to compare similar products it is right on the correct RRP…though bigger online retailers can afford to discount the product to £5 which makes it very competitively priced.
The overall design and feel of the product is good, the finish is what I would expect for a product of this cost (not cheap but cost effective).
The size and weight is ideal for the product, so therefore can be used by both younger cyclists with smaller hands to those adults with larger hands.
The wear indication measurements while new and clean are legible, when used on a work stand.
One small concern, the 1% wear limit is clearly stamped on the product while the 0.75% wear limit is etched, so not too sure how long this would remain legible with use/muck/grime etc…it would be nice to see it stamped in the same manner if possible?!
I would have given a 10/10 for this product other than the one critique of the etched rather than stamped 0.75% wear indication on the gauge.
With the concern that many consumers have for recycling all forms of packaging, which does include many councils reducing the size of refuse containers it would be a valid marketing tool to use packaging that is easily and recognisably recyclable, especially when products of similar costs are compared.