Dirtwash Disc Brake Rotor Wipes
Weldtite Dirtwash Disc Rotor Wipes
Sensible emergency fix for commuters or tourers running hydraulic disc brakes.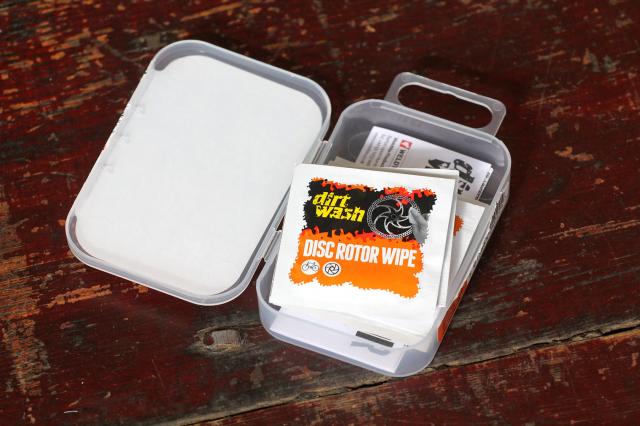 Disc brakes are springing up all over the place in the roadie market with the majority of them being put to work on all weather training and commuting bikes. Winter is here, so Weldtite's Dirtwash Disc Rotor Wipes are probably a sensible thing to keep in your rucksack.
Aimed primarily at the mountain biking community the Rotor Wipes are basically paper towels which are soaked in isopropyl alcohol. As a solvent it's intended here to clean pretty much anything off of your disc rotor to stop poor braking due to contamination.
For £1.99 you get six individual wipes in their own sachets all packed away in a plastic case. They'll remove dirt and grit but more importantly oil and hydraulic fluid. Now I know the majority of maintenance is carried out at home so these might not get a lot of use but they are intended as an emergency mid ride solution to brake fluid leaking onto the rotors or some over zealous chain lubrication.
I've tried them on pretty much every concoction I could find in the shed and the wipes removed it all while also leaving no residue on the rotors or your fingers. One wipe will clean both rotors though you've got to be quick as the alcohol evaporates pretty rapidly from the towel and it'll be dry before you know it.
Overall while they might sit in the bottom of your commuting bag for a while they are a worthwhile investment if you are running discs on the commute or touring especially if said brakes are hydraulic. At 33p a wipe it's not a huge investment either.
Verdict
A sensible emergency fix for commuters or tourers running hydraulic disc brakes.
Words – Stuart Kerton
Check out the full review at...
http://road.cc/content/review/137494-weldtite-dirtwash-disc-rotor-wipes