Scott Swalling lives with the Cyclo Modular Work Station
A little while ago I was lucky enough to get one of the Cyclo Modular Work Stations from Weldtite. If I am honest the thing that lured me to this work stand was the Clamp Head itself, but with such a good deal it was worth getting the hole stand. The stand is pictured below holding one of my rides.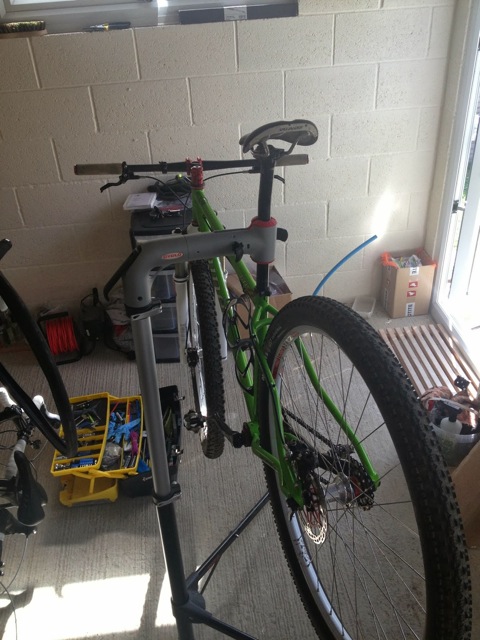 The first thing you notice is just how damn easy it is to use the Clamp, it is easily closed, released and rotated with the simple flick lock levers. In fact closing the clamp couldn't be easier as self adjust as you close it shut on any frame or seat post size and locks in place. To release simply lift the close lever and push the lock lever open. Couldn't be simpler and no boring winding of a handle. I certainly can't fault the Clamp, top marks.
What's in a stand? My other stand is quite big a bit heavy, but very very stable. It is still a mobile stand, though so I am comparing apples with apples. The Cyclo stand like the Clamp Head is easy to use and adjust and the leg looking mechanism is great, so simple to use and reliable.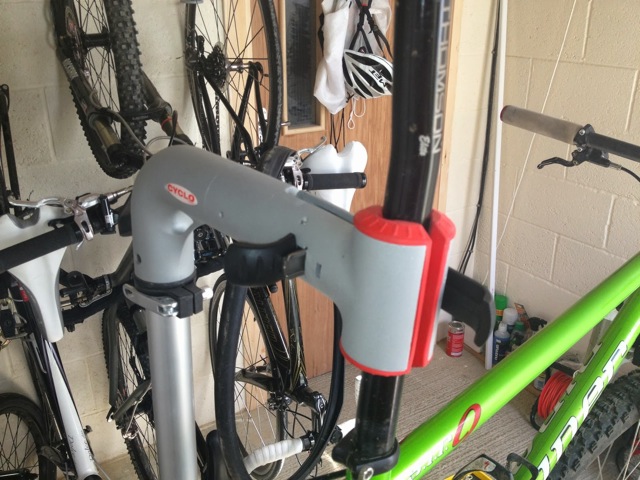 But there are two quibbles. On a firm and flat surface the stand is very stable, but you do need to make sure the bike is perfect central if it is a 29er or DH rig, removing a wheel once or twice I have had to make an unexpected catch. But I have got that sussed by ensuring the bigger bikes are more central. However, as soon as the ground is a bit uneven the 3 point contact design of the feet seem to cause it to be a little too unstable, so make sure you have a work mat underneath it at any races in a field.
The only other thing I notice that was once again only a quibble, nothing major. Was that at full height the stand does tend to have a bit of a lean, meaning that large pedals get a little fouled on the stand itself. If you drop the stand a little this straightens out, but for me means I would be working a little bent over. Fortunately I don't run large pedals and you can see in the first picture there is plenty of clearance for XC style clip-less pedals.
Overall, this is a very good work stand and has an excellent Clamp Head and there are range of different mounts for the Clamp Head that really make it versatile. It has taken over as my workshop stand and serves me very well indeed. I have kept using the heavier one of have at races as it is just that little more stable although the clamp on it is not as good as this one, but then again it doesn't get used a lot at races.
Nice work team, very happy with this and it is now a permanent fixture next to the workbench.