TF2 Performance Lubricant with Teflon Surface Protector (James Gould)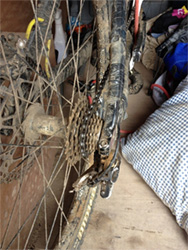 My first impression of the lubricant was that when applying it to the drive chain, I found the 'medium' consistency of lubricant perfect for getting it on the chain - rather than the ground or the rest of the bike as I have experience with some thicker/thinner lubricants.
On the downhill bike I was racing in dry dusty conditions and during the week on the XC bike I was doing my best dodge the puddles and mud. In both conditions the lubricant performed exceptionally. The TF2 resulted in a smooth drive train that barely missed a beat on either bike, which is even more impressive considering that it was the same lubricant - and not two separate bottles designed specifically for either dry or wet conditions!
Other than the fact my friends haven't stopped borrowing it, the only problem I experienced was that the lid isn't as secure as it could be using a proper thread. After running TF2 for a couple of weeks now and I have been thoroughly impressed - I will definitely be replacing the dry and wet lubricants in my toolbox with this one bottle in the future.