TF2 Performance Lubricant with Teflon Surface Protector (Peter Mccarthy)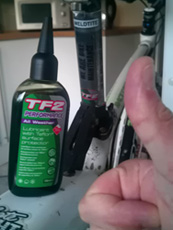 TF2 lubricates, protects and prolongs. Having already used this product, I can honestly say if you're looking for a great all round Lubricant then TF2 performance all weather lube is the one to buy.
I have used this in all weather - sun, rain, snow(mostly rain this being England!) Last winter I rode all through, I was using a non-teflon based spray before every ride only to find surface rust on my chain the following morning. Switched to TF2 performance all weather and it hasn't let me down yet! It also works a treat on dry gear cables drop 3 or 4 drops in sleeve and its smooth shifting from there.
If you've just cleaned your bike, rub down your frame with TF2 performance lubricant and not only will it add some protection - your steed will gleam too!