TF2 Performance Lubricant with Teflon Surface Protector (Tom Downie)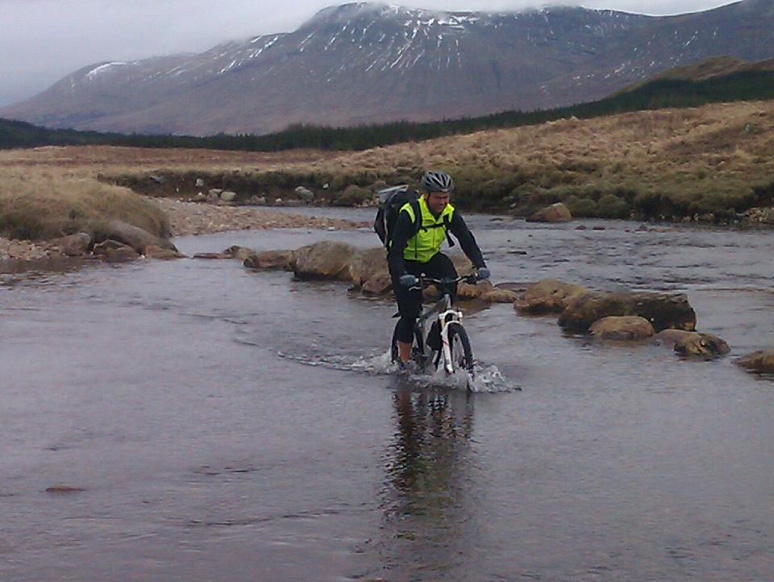 I've learnt the hard way over the years that not all bike lubes are equal. My most recent failure was thinking that because it hadn't rained for a few weeks I should try some dry lube that promised "mess free all weather shifting". Two hours in, my bike sounded like a rusty shopping bike and then the (new-ish) chain snapped and fell off. So I went back to the tried and tested heavy wet lube that works. The downside is that it gums the drivechain up so regular cleaning is needed to keep it smooth and clean. So I was more than happy to try the TF2 performance lube and see if it could offer the long lasting lubrication without the gunking up.
Not one to do things by halves, I thought a 60km "big country" route through the West Highland's finest scenery would be the ideal place to try it out. Mountain biking in the Highlands usually offers some dusty landrover tracks, rocky singletrack, river crossings and a good amount of bog trotting. This route turned out to be no exception, starting at Tyndrum and making it's way north up the West Highland Way before turning off through remote glens to the sea at Taynuilt.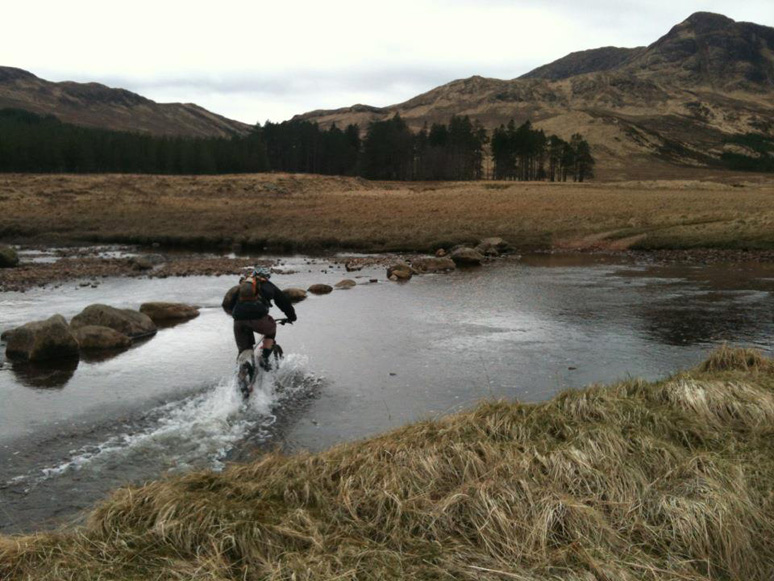 So to give the TF2 Performance a good test it was used on my hardtail with 3 x 9 gearing and a Giant full suss running nice new 3 x 10. Both bikes were fully degreased and then the lube was applied carefully and any excess wiped off. My initial thought was that it was quite runny which makes it easy to apply and fully coat the chain (I find heavy wet lubes need more work to apply). The lube has a quite distinctive "industrial" smell and as it's quite light it does drip a bit. So it's probably best applied outside, which I will do next time.
I had a bit of a concern that because it was quite light it wouldn't last the whole ride. The initial performance was good, with smooth shifting as you'd expect. The route included everything from steep rocky climbs to fast open tracks so the whole range of gears were needed. After 60km of rocky singletrack, a few deep river crossings, some bog and miles of dusty open tracks both our bikes were still shifting flawlessly. The deepest river crossings of the Abhainn Shira and Altt Ghabhar are quite near the start of the ride so this really shows how durable the lube is.
So overall I am very impressed, I can even forgive the slightly industrial smell because it works so well. I am absolutely certain that if we had used a different lubricant for the ride we would have had grinding, chain suck ridden drive chains by the end because the amount of water crossing and tough terrain. The TF2 Performance lube is long lasting, easy to apply and keeps the drive chain slick even on the toughest of rides.