TF2 Plus Dry Lubricant with Teflon Surface Protector and TF2 Dry Wax Chain Wax + Krytox
As we have actually had some nice dry weather it was easy to test these products. Due to an injury I only tested these on my road bike but nether less I was able to see how the preformed and the differences between the two.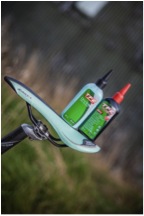 TF2 - Dry Wax My first impression of this wax lube

was how the colour made it easy to see how much had been applied to the chain. This is a very useful as you can make sure do don't use more lube than is necessary. The lube dries nicely leaving a good coating on the links and rollers. Although I tested it on a dry day the road was pretty dusty and it seemed that more stuck to my frame than it did to the chain. Throughout the ride the chain ran silent and shifted smoothly. I will certainly be using this for the road bike in the future and look forward to testing it out on the MTB.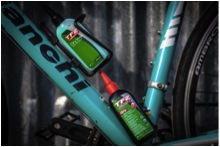 TF2 Plus Dry with Teflon This lube is a lot thinner and like other Teflon lubes can get messy if applying with a heavy hand. Being thin, it soaked into the links and rollers very quickly. It's a great lube to take with you in your backpack for some emergency lubrication. Again I tested this on the road bike in dry conditions. Although some dust did stick to the chain it was not enough to affect the shifting and again the chain ran pretty silent.
For me the Dry wax with Krytox was the better lube but please note I did not run these in wet conditions or on the MTB.