TF2 Plus Dry Lubricant with Teflon Surface Protector and TF2 Dry Wax Chain Wax + Krytox
This review is a little different as it involves comparing 2 products both designed with the same thing in mind, SUMMERTIME!!!!!
Dry chain lubricants are not something that is at the forefront of riders minds in the UK, normally as our summertime lasts about a week then it rains for the rest of the time.
This year we have been very lucky so far and Weldtite thought it appropriate that we give their TWO new dry conditions specific chain lubricants a real world testing.
First up we have TF2 Plus+ Dry lube with Teflon, a similar style product to the All Conditions Lube I tested earlier in the year. So how will this compare to that.
Straight away it is noticeable that its a lot thinner and seems to be 'absorbed' by the chain a bit quicker than its All Year Round stablemate. When dry it appeared to be virtually invisible. During the test period the weather was mainly dry, with the occasional short rain spell, meaning dry dusty trails with the odd muddy puddle thrown in for good measure. The lube held up well through these conditions, attracted a little bit of dust but did shrug off the splashes from the brown water. I did have some photo's but memory card had a bit of a moment so they are no longer viewable.
Second into the fire is TF2 Dry Wax with Krytox, as the name suggests it is a Wax based lube, I know of at least one other lube on the market which is wax based and it gets very good write ups so I was most looking forward to seeing how this does.

After a fair amount of running with the lubricant I can safely say all is well. The conditions were identical for both lubes, but if anything id say slightly more water came into contact with the Wax lubed chain.
The results are as shown below, very impressive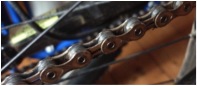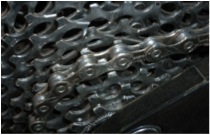 The cassette shows no pick up what so ever, the chain does have a bit of dirt and general grime on board but nothing massive, and for the amount of running its done its superb. Very quiet running which is something the Teflon version didn't manage to well. The wax base also shook off the water attacks much better, a quick spray showed the wax presence as it balled up and fell of quickly.
I definitely prefer the Krytox Wax Dry lube, less pickup than the standard Teflon Dry.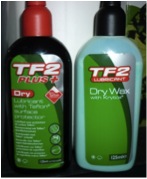 As normal with Weldtite products a little goes a long way, it hardly looks like I've used any of either, which means good value.
Hopefully the next review can be conducted in such good conditions, but it's safe to say that for the next few dry days and the next few summers to come I know what is going on my running gear!