Tyre Removal & Fitting Tool (Gary Tumilty)
The Tyre Removal & Fitting Tool from Weldtite was rather large but looked very strong, sturdy and easy to use, all of which should combine to make a great piece of kit. So how did it perform?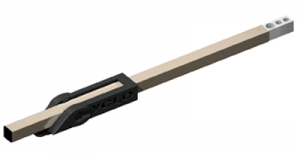 As I had my offroad tyres on the mountain bike I decided to give this tool a go to put a slick on to use whilst on the turbo! The reason I went for the MTB was because it gave me a better position to ride in that would allow for a better position and support of my injured hand!
Now imagine I'm in a splint, hand can't take any excess pushing or pulling pressure and I am not asking the other half to change a tyre! So I popped the tyre removal and fitting tool out of it's packaging and scanned the instructions! It all looked quite simple but I thought something tricky would arise, it won't all go to plan and be as easy as they make it out!
Well.... it was that easy! What can I say! The tool was so easy to use to take a tyre off and to fit a new one that I was able to do it practically one handed! It took me less than 10 mins from deflate to inflate and was honestly so easy! I usually struggle using 3 tyre levers and a lot of bleeps to get tyres on and off but no longer! I'd rate this product 10/10!
As I use my Ridley Cx bike for CX and for road riding I do tend to change the tyres on it quite frequently, now my task will take less time and effort, so thanks to the guys over at Weldtite for creating a strong, sturdy, easy to use tool!
The guys at Weldtite also sent me some Red Devil Repair Patches to test out, but since I haven't had a dreaded 'P' in a long while I was unable to review this batch...However, as I have used these before I can tell you how good they are anyway! I have had to use them once and they had me back on the trail again in no time, they are super fast and ultra reliable, the tube I used the patch on still holds air like it has never been punctured and the size makes them ideal for your saddle bag! Again this is another 10/10!
If you are stuck for space or want to keep weight down these really are small, neat and weigh nothing. In fact I've stopped taking a spare inner tube out with me and carry the small case these come in instead, they make repairing a tube as quick as replacing one! Honestly every rider should carry these just in case!
Finally, I thought I'd mention another piece of kit I own and one that comes on every ride (no surprise who manufactures it) it is the Weldtite Wedge Bag: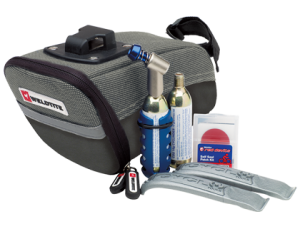 It contains:
Jetvalve CO2 Inflator
Jetvalve CO2 Replacement Cylinder
Two Ezytech Tyre Levers
Red Devils Self Seal Patch Kit
All in all an excellent piece of kit made to an exceptionally high standard!
Read Gary's full review over on his blog