Weldtite TF2 Extreme Wet Lubricant 125ml
Stout and surprisingly clean-running lube that represents excellent value for money.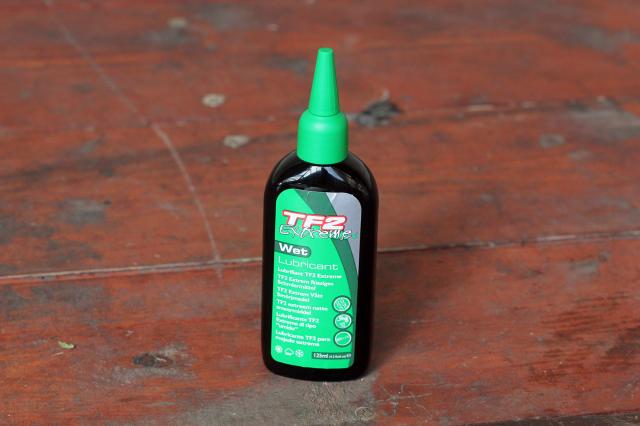 Weldtite TF2 Extreme Wet lubricant is a tenacious chain lube for those situations where longevity and corrosion resistance take precedence.
It's a blend of high grade ISO oils with specialist additives to prevent wash-off, while providing high quality lubricant/corrosion inhibiting qualities. On paper at least, these are cleaner running and stay put longer than simple stuff.
Applying it to the chain doesn't require an engineering degree. Strip existing lube etc from the recipient chain, pop the spout and drizzle sparingly into each link. A slightly lower viscosity means it's surprisingly mobile and there's no curing period. Keep some clean rag or kitchen towel handy to catch overspill.
Wet lubes generally double as nifty grease substitutes on threaded components. This one's no exception, though steer clear of pivot points sprung mechanisms-especially Look/SPD bindings.
Performance is pretty much what we've come to expect from wet formulas. From the outset, chains and shifting seem positively serene, albeit slightly syrupy compared with slicker, PTFE-fortified types. Cleanliness is level pegging with B'Twin's wet weather lubricant.
The first hundred miles spent whizzing through wet, leafy lanes left me marvelling at how little contaminant it attracted. Things weren't quite so impressive through soggy, churned bridlepaths, though 'cross and mountain bike riders will be pleased to note earthy stuff is easily rinsed away and the lube remains firmly in place.
Talking of economy, we're well past the 300-mile barrier on a single application. I'm pretty confident 600 is possible through a moderate autumn's road riding. However, a harsh winter might shout the odds.
Personal preference leans me towards its lighter, Teflon based sibling and more frequent top-ups but otherwise, I'm struggling to find fault.
Verdict
Stout and surprisingly clean-running lube that represents excellent value for money.
Words – Shaun Audane.
Read the full review at…
http://road.cc/content/review/134151-weldtite-tf2-extreme-wet-lubricant-125ml