Weldtite TF2 Lubricant Spray with Teflon
Excellent workshop staple but not quite a cure all.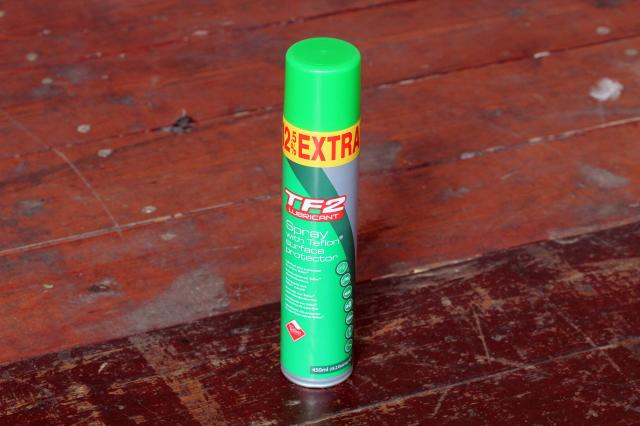 Weldtite TF2 Lubricant Spray With Teflon is a heavy duty PTFE (Teflon) formula designed to keep cables and other moving parts slick for a long time. However, despite some notable advantages and a 150ml pannier friendly option, it's not quite a cure-all.
It's made of mineral oils, PTFE, solvent and a butane propellant. Solvents serve to keep the mixture fluid (and therefore, sprayable) before acting as a carrier, which spreads on impact, priming the host surface. This then evaporates, leaving only the slippery, honey coloured elixir behind.
I've used this spray for several seasons now and it really stays put, even in grotty midwinter. Single shots are sufficient to keep cables, pivot points, cantilever posts, trailer hitches and cleat/locking mechanisms happy for several weeks. Really harsh, slushy conditions required fortnightly top-ups.
Ours has also doubled as a thinning agent for stout wet lubes and proved a passable fair weather chain lube in its own right, easily on par with 'clean n go' sprays. We've managed 175 late summer miles from a single, two-coat application.
I've also used it to help flush home brewed frame protector (derived from 10w40 motor oil and grated candlewax) around thin wall tubing. As a masking agent, it affords excellent protection to electroplated surfaces including frame ends, quick release skewers and bikes spending long periods on indoor trainers.
Even the cleanest of films will attract some dirt, though this hasn't been an issue for bikes in seasonal hibernation. Bear in mind the solvent component also dissolves adhesives, cuasing unsealed stickers to lift and peel.
Mildly neglected contact points have also released within ten minutes given a few blasts and deft taps from a rubber mallet. Genuinely seized parts demanded specialist dismantling sprays. Don't try and use it to protect electrical components and switches either. The richer Teflon component muted connectivity, demanding liberal helpings of WD40 to resuscitate two flooded blinkies.
Verdict
Excellent workshop staple but not quite a cure all.
Words – Shaun Audane.
Read the full review at…
http://road.cc/content/review/136384-weldtite-tf2-lubricant-spray-teflon